"I'm sorry for what I said when I was hungry"
If you love food as much as we do then we think you'll enjoy these weekly recipe favorites!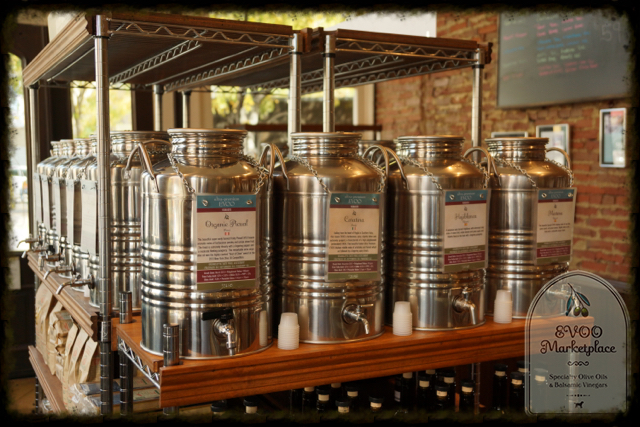 At Aspen Emporium and Flying Circus
Roasted Walnut and Arugula Pesto with Lemon Seared Scallops
Ingredients
PESTO
5oz Arugula (washed and spun dry)
1/2 cup Parmigiano-Regianno (freshly ground)
3/4 cups walnuts (finely chopped-toasted in saute pan until dark and fragrant)
3 tablespoons lemon juice (freshly squeezed)
1 clove garlic (peeled and smashed)
C'est tout B0n (Roaring Fork Spice Co.) sold separately at the Emporium and Flying Circus)
dash of sea salt and cracked pepper
1/2 cup Ultra-premium EVOO (Medium to Robust Intensity) (EVOO Marketplace)
1/2 cup Roasted Walnut Oil (EVOO Marketplace)
SCALLOPS
1lb Scallops
4 tablespoons Ultra-Premium EVOO (Medium Intensity) (EVOO Marketplace)
4 tablespoons Sicilian Lemon White Balsamic (EVOO Marketplace)
Directions
Pesto
Step 1
In a food processor, combine together arugula, Parmesan, toasted walnuts, and lemon juice. Pulse until mixed together
Step 2
Through the mouth of the processor, feed in the oils whisked together in a small stream (thinner than a pencil).
Step 3
Season (salt and pepper) to taste.
Scallops
Step 4
Whisk together salt, EVOO and balsamic to form a temporary emulsion
Step 5
Place scallops in freezer bag with marinade/emulsion and seal; be careful to expel all air from the bag. Leave 30 minutes
Step 6
Sear scallops in hot sauté pan until lightly firm on both sides, flipping only once. Total cook time 3-5 minutes or until done.
Enjoy this and many more delicious recipes using EVOO Marketplace Fine Olive Oils and Balsamic and the valleys favorite local spices from Roaring Fork Spice Co.